Anna Lion CR
Born:
August 31st, 1991
Died:
April 7th, 4015 (Age: 2,023)
Factons:
Japanese Self Defense Force
Family:

Ike Koakshi (Adopted Father)
Carpathia Koakshi (Adopted Mother)
Mel Koakshi (1992 - 2340)
Luna Koakshi (1993 - 2340)
Panamala Koakshi (1995 - 2400)

Gender:
Female
Race:
Earth
Species:
Human / Immortal Being
Love Interest:
H.C.R.
Nationality:
Japanese
Rank:
Lieutenant
Created By:
2091riveraisrael

Annilia Lion Koakshi Is the Eldest Out of all four Lion Sisters, she acts as a leader and a mother over her sisters. She also consists to be the most loyalist one to her adopted father Ike Koakshi, and would always seek training from him in order for her to Improve her power so she can get stronger in the future.
She acts over protectively and loving towards H.C.R. where they officially began dating by January 2033, and eventually married by August of 2100.
She is also known to act very Motherly towards her Youngerst Sister Panamala Koakshi, in which Pan would often refer to her as Mommy and would often treat her as if she was her mother, Anna would often also treats Pan like she was her own Daughter as well.
Early Life

[

]
Anti-Aging Immortality

[

]
Personality

[

]
Wars

[

]
European Civil War

[

]
World War III

[

]
The Galactic War

[

]
Universal Death Conflict 

[

]
Encore War

[

]
Relationships

[

]
H.C.R.

[

]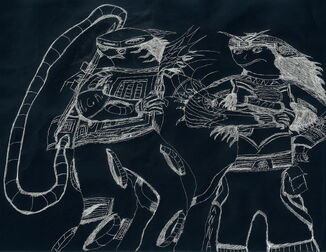 Octon Sisters

[

]
Ike Koakshi

[

]
Carpathia Koakshi

[

]
Y.H.R.

[

]
H.H.R.

[

]
Continentals

[

]
Death

[

]
Trivia

[

]